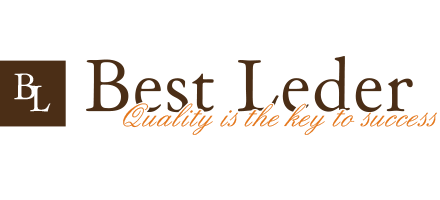 This disclaimer shall apply:
the web page: every web page where a hyperlink to this disclaimer with the intention to apply this disclaimer;
the editor: the authorized editor of the web;
use (s): loading, logging, retrieval, consultation, reading, viewing, listening, editing, completing (forms), sending, (temporarily) copying, storing, transmitting, distributing, using services, committing acts (buy, rent);
you, whether or not represented natural or legal person who uses the web page;
The contents include text, images, hyperlinks, audio and / or video and / or other objects;
damage: direct or indirect damages of any kind, including lost data, business, income, profit or other economic loss.
The user of this site is subject to the terms and conditions. These terms and conditions and the content can be changed at any time by Best Leather. Best Leather is not liable for the consequences of errors in / on its website. No rights can be derived. Incorrect pricing information Offers are valid while stocks last during the term indicated.
1. The following applies to the page you are currently viewing. By using this page you agree to this disclaimer.
2. The index is compiled by the owner with the utmost care, but, the owner accepts no liability for any inaccuracies in the displayed. We can not be held liable for direct or indirect damages resulting from the use of the site or the information on or through the website made available.
3. Permission to use the displayed content or parts thereof in public places must be requested in writing to us
4. Best Leather reserves the right to refuse returned goods or to refund only a portion of the invoice amount when it is suspected that the product has been damaged.
5. Ensure that you have sufficient franks when returning your items the package. (Unstamped or not sufficient postage will be refused)
6. Unauthorized or improper use of the website or its content may be an infringement of intellectual property rights, privacy, publication and / or communication in the broadest sense of the word. You are responsible for everything you send from the web.
7. You'll be the publisher, its employees, agents, licensors, partners and the author of this disclaimer against any judicial and non-judicial measures, condemnations, etc, including the costs for legal assistance, accountants etc. which are a result of third party or related to your use of the website, your violation of any law or the rights of third parties.